Theatre of Blood Meets The Abominable Dr. Phibes in 'The Grievling'
Clover Press
Steve Niles and Damien Worm have worked together on a number of comics and graphic novels, including Monster & Madman, Storm Kids, and five volumes of the YALSA Award-winning October Faction, which just premiered as a 10 episode series on Netflix. Now, Niles and Worm have teamed up once again for The Grievling from Clover Press.
Set in a small town in middle America, The Grievling is a tale of death and revenge featuring a young girl who returns from the grave after a bullying incident taken too far leads to her accidental murder.
The first of two oversized issues will be available everywhere April 28. Clover Press checked in with the creators to learn more about their new book and what it's like to have your work turned into a TV show.
Clover Press (CP): The two of you have worked together on a number of projects. What's your process like? I understand that you live in different countries?
Steve Niles (SN): I'm in LA and Damien is in Spain. We do everything through email and have never spoken to each other. It's a little strange but it works great. I love collaborating with Damien.
Damien Worm (DW): Yes, we're a bit far away from each other, but today with the internet that's not a big deal at all. Steve sends me the scripts, but before that we usually speak about the character's design, with references etc. It's a really simple way, and Steve gives so much freedom to the artist. And that's really cool!
CP: How would you describe The Grievling?
SN: It's a supernatural revenge story crossing films like Theatre of Blood and The Abominable Dr. Phibes with a hero of sorts.
DW: Yes, it's a supernatural revenge story, but it has more depth. It's like sometimes you have to be really evil to fight real evil.
CP: What's it like to have October Faction turned into a TV show? (Season One now streaming on Netflix).
SN: It's pretty mind-blowing and a little scary. It's a bigger audience then I'm used to, so that's something. Luckily I really like what they did so it's been fun, not only watching the 10 episodes, but also seeing people's reactions.
DW: It's really amazing. I already watched the whole season twice. All the people involved in the show did an awesome job. I love the show!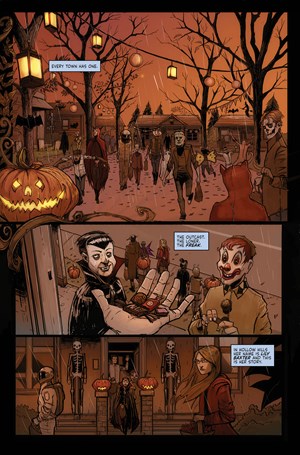 CP: What horror books, movies, or TV shows can you recommend?
SN: Really enjoyed The Lighthouse and Joker. I just picked up a collection of M.R. James ghost stories I'm looking forward to reading. And for TV… October Faction on Netflix!
DW: Ghostland, Blackwood and The Autopsy of Jane Doe are the best horror movies I've seen in the last couple of years. I'm reading Noctuary by Thomas Ligotti and it's really good. And, of course, if you like horror, check out October Faction on Netflix!
CP: Steve, do you write full script or "Marvel/Stan Lee" style?
SN: I write full scripts.
CP: Damien, please describe your process. Is your art all drawn using a computer?
DW: Well, it's more like a mix between digital and traditional. But sometimes I finish the page in a traditional way and sometimes I use digital from start to finish.