Pierce Brown Discusses 'Red Rising' Universe Expansion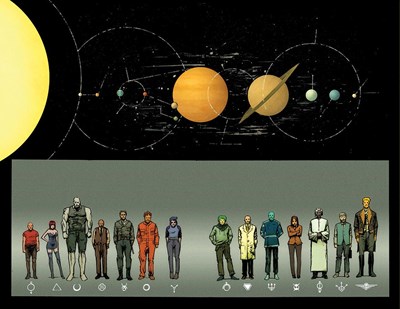 Pierce Brown is an American science fiction author who writes the Red Rising series. This critically acclaimed series has been expanded with Brown and co-writer Rik Hoskin creating in-cannon prequel installments in the graphic novel format with artist Eli Powell.
Pierce Brown's Red Rising: Sons of Ares is the first installment of the graphic novel expansion of the NYT best-selling series' universe. The series focuses on the future, when mankind has spread across the stars and the hierarchy of man is dictated by the color of one's caste. The Golds rule all, but what will happen when one falls for a lowly Red? This forbidden love will set the course of events for the future and lead to the formation of the formidable Sons of Ares!
Now, Pierce Brown's Red Rising: Sons of Ares Volume 2: Wrath is slated to release in December 2019. You can read the full description below:
Fitchner's quest for revenge continues as he and the other Sons of Ares seek out the Golds who have wronged his family. But actions come with repercussions and an elaborate game of cat and mouse is on. A battle of Gold versus Gold erupts further into more than acts of vengeance and becomes the seeds of a revolution.
When asked about expanding his universe in the comics medium in an interview, Brown said: "Novel writing can be a solitary affair. At its best, it is a conversation between the reader and the writer, filled with ambiguity and fleshed out visually by the reader's mind. But comics are communal. The images are defined, the story tighter, and the crafting a team effort."
The interview continued to ask Brown about his choice in publishing the graphic novel trilogy as a prequel. Brown responded with, "I wanted the story to be accessible to those who had not yet read the first three Red Rising books. And since I was expanding the narrative to three more novels, it seemed the most fertile pasture for exploration would be found in a prequel. So much of the Red Rising world is drenched in mythology–past wars, grudges, shadowy origins–that it felt a natural path to take, and a fun exploration to embark upon. In the novels, Ares is a mysterious figure who masterminds a rebellion against his tyrannical government. Yet he isn't the focus of the story. His understudy, Darrow, is. I wanted a field more or less empty of the important characters in Red Rising so Ares would have his chance to shine."
Pierce Brown's Red Rising Sons of Ares Volume 2: Wrath will be avilable everywhere on December 3, 2019.