Cinemax Announces Season 2 Premiere Date of OUTCAST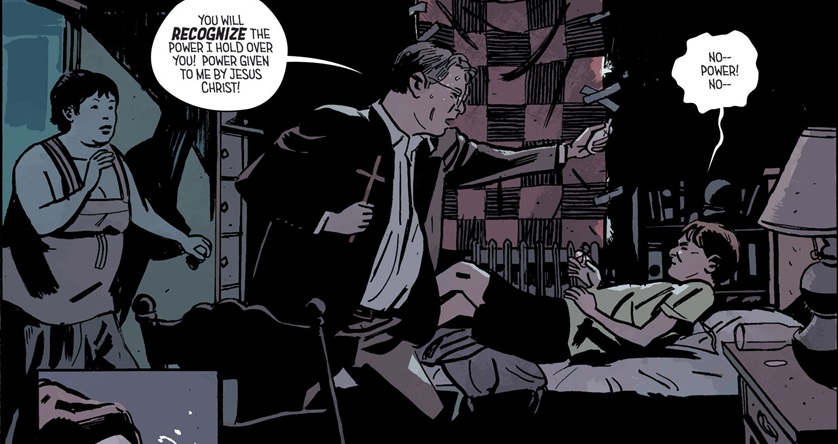 Announced by Deadline, Cinemax has revealed the Season 2 premiere date of Robert Kirkman's (The Walking Dead, Invincible, Oblivion Song) suspense-horror series Outcast. Returning Friday, July 20 at 10PM, the U.S. launch comes a year after airing on the Fox International channels.
"I think the new season is very strong, and I hope it's got a bit more fun and entertainment in it, and is a step forward," Antholis told Deadline. The show stars Patrick Fugit as Kyle Barnes, a young man plagued by demonic possession. Joined by Philip Glenister as Reverend Anderson, a preacher fighting God's holy war against evil forces, Kyle desperately tries to protect his loved ones against the human and otherworldly threats that target him.
Outcast is based on the original comic series created by Robert Kirkman with artist Paul Azaceta and published by Image Comics. For tie-in titles for Outcast from Image Comics, see below.
| | | | |
| --- | --- | --- | --- |
| Title | ISBN | Price | Release Date |
| Outcast by Kirkman & Azaceta Book One | 9781534300910 | $39.99 | 11/8/2016 |
| Outcast by Kirkman & Azaceta Book Two | 9781534304390 | $39.99 | 12/5/2017 |
| Outcast by Kirkman & Azaceta Volume 1: A Darkness Surrounds Him | 9781632150530 | $9.99 | 2/10/2015 |
| Outcast by Kirkman & Azaceta Volume 2: A Vast and Unending Ruin | 9781632154484 | $14.99 | 10/20/2015 |
| Outcast by Kirkman & Azaceta Volume 3: This Little Light | 9781632156938 | $14.99 | 6/21/2016 |
| Outcast by Kirkman & Azaceta Volume 4 | 9781534300507 | $14.99 | 2/28/2017 |
| Outcast by Kirkman & Azaceta Volume 5 | 9781534302495 | $16.99 | 10/10/2017 |
| Outcast by Kirkman & Azaceta Volume 6: Invasion | 9781534307513 | $16.99 | 7/31/2018 |